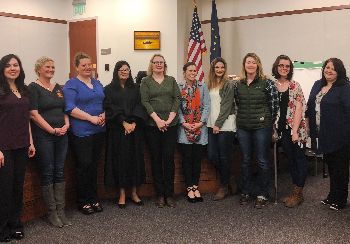 Hayley Hall
Valley CASA Program Coordinator
Hayley born and raised in Liverpool, England and moved to Palmer, Alaska in 2000. She has lived in the Mat-Su Valley since.
Hayley has always loved working with children.  She is currently working towards her Bachelor's degree in Special Education. Prior to joining Valley CASA, Hayley spent six years working as a caseworker for the Division of Public Assistance, serving families statewide.  She enjoyed working with families and helping provide them with resources for success.  Hayley has been the Valley CASA Program Coordinator since May 2016.
Hayley has always felt pulled towards working with those who need a little extra help. Even when she has questioned why the answer is always the same: It takes one person to make a difference in another person's life.  She has always lived by that motto and try to be that difference where she can be.  
When I am not working, Hayley enjoys fishing, hiking and spending time with her husband and children.