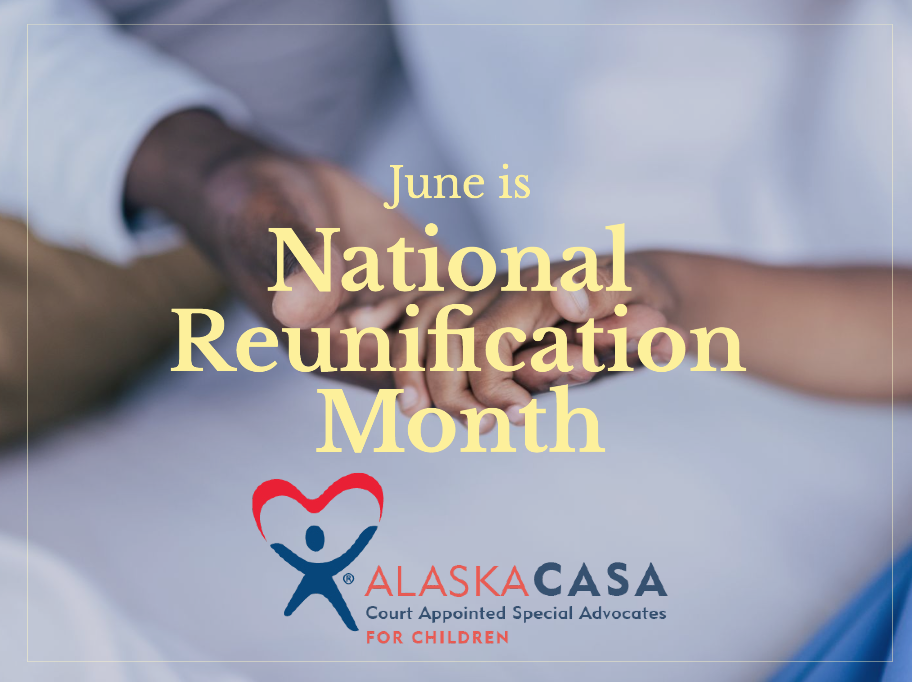 June is National Reunification Month. It's a time to reflect on family strengths that lead to successful reunifications. In honor of the month, Alaska CASA celebrates families, volunteers and service providers who work hard to reunite separated families. Our volunteers work with experts to identify and recommend services aimed at keeping families together.
According to the Children's Bureau with the Administration for Children and Families (ACF) of the U.S. Department of Health and Human Services (HHS), the majority of children exiting foster care are reunited with their families. In fact, over the past few years, the percentage of reunifications that occurred in less than 12 months from the time of entry into foster care was between 65.5-67 percent. Reunified families that restore children and youth to their family of origin are an inspiration, because they have overcome difficulties and are equipped with tools to address future challenges.
We know children do best when they can safely remain with their parents or with other family members. That's why Alaska CASA volunteers commit to strengthening families in their ability to care for and protect their children.
According to the National CASA/GAL Association for Children 2019 Annual Local Program Survey Report, 41 percent of the cases closed resulted in children returning to their parent(s) or primary caretakers, including 5,000 children reported as remaining with parents or caregivers throughout the case.
We are so grateful to our 75 Alaska CASA volunteers for their involvement in reunifying children with their families. If you or someone you know is interested in becoming a CASA volunteer, please call or email for more information at (907) 265-3153 or alaskacasa@alaska.gov.