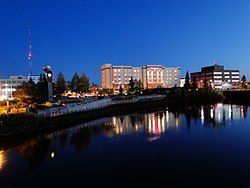 Items available for CASA kids
Stuffed animals- great for initial meeting, milestone gift, etc., compliments of Karla Taylor-Welch 
Quilts- great for easing difficult transition, reaching permanence, etc., compliments of Denali Quilters Guild
Gift cards- ask Anne about gift cards to local eateries, compliments of Friends of Alaska CASA
Activity Ideas for CASAs and Youth
Some free kid friendly things to do in Fairbanks….. 
Playground- over 26 to chose from! 
Library- also check out local kid programming; UAF museum passes available to check out
Georgeson Gardens- kid garden at far east end
Kite flying, berry picking, tennis, soccer, basketball
Creamers Field walk
Frisbee golf at Birch Hill
Morris Thompson Cultural and Visitor Center
Arctic Bowl- kids under 12 bowl free on Sunday
Home Depot kid workshops- 5-10 yo, first Saturday of month from 9-noon
Lowes kid workshops- 5-10yo, every other Saturday at 10am
Chena Lakes- walk, throw rocks, picnic
Tanana Lakes- "
Nominal charge:
Regal Cinema – $1 kid films 10am Tuesday & Wednesday
Big Dipper skating
Literacy Council- Forget me not Books
Bowling 
Fountainhead Antique Auto Museum
Pioneer Park- train rides, merry-go-round , mini-golf, Pioneer Air Museum, Riverboat Nenana, Alaska Native Museum
Ice cream trip
UAF Museum of the North
Chena Lakes
Thanks to Friends of Alaska CASA we have gift cards for you to take your CASA youth(s) on an outings.
Community Resources
4H Club
University Park Bldg-UAF,
Rm 138
474-2427
Wide variety of programs for children and teens with their parents.
Access Alaska
526 Gaffney Road
479-7940
Access Alaska is a private, non-profit, consumer-controlled organization that provides independent living services to people who experience a disability.
Adolescent Substance Abuse Counseling Services (ASACS) 
Ft. Wainwright Building 1064,
Room 202
353-1382
Provides prevention services, assessments and treatments services for military dependants.
Adult Learning Program (ALPA)
122 1st Ave.,
Suite 201
452-6434
Provides educational assistance, information, and referrals. Services include GED/Work First program, English as a second language and computer skills.
Alano Club 
830 6th Ave.
456-1604
Uses Alcohol Anonymous' 12 Step Program to aid the recovery of alcoholics. Teens are welcome to attend.
Other AA meeting places can be found at this website: http://www.fairbanksaa.org/schedule.html
Alanon & Alateen 
456-6458
Support groups for adults and teens whose family members are alcoholics. 
Alaska Center for Children and Adults 
1020 Barnette St.
456-4003
ACCA provides diagnostic, therapeutic, educational and referral services for people with disabilities. Medical equipment is available for loan. Occupational, physical, and speech therapy services are offered on a sliding fee scale. Project Teach provides early intervention from birth to three years of age for those experiencing developmental delays or medical conditions from birth. FACES (Fetal Alcohol Community Evaluation & Services) offers a team of professionals to evaluate youth suspected of having FASD.
Alaska Center for Resource Families 
815 2nd. Ave.
479-7307
(ACRF) provides training, referral services, individual support and information to those who are or are interested in becoming foster parents, adoptive parents, relative caretakers or guardians.  
Alaska Child Support Enforcement Agency 
675 7th Ave.
451-2830
Serves the children of Alaska by enforcing child support orders and advocating personal responsibility for family obligations.
Alaska Job Bank 
www.jobs.alaska.gov
Website that provides a list of jobs currently available in Alaska. 
Alaska Job Center Network 
675 7th Ave.
451-5967
Provides vocational training and assistance with job applications and interviews for adults and teens. Computers and job information are available in the resource room.
Alaska State Troopers:
451-5100
American Red Cross 
725 26th Ave.
456-5937
A wide variety of trainings are available including First Aid, CPR, Pet First Aid, Babysitting, and Disaster Classes. Training as a Red Cross Instructor begins at age 17.
Big Brothers Big Sisters 
610 Cushman St.,
Ste. 300
452-8110
Provides mentors for all children who need and want a caring adult role model through site-based and community-based programs. 
Big Dipper Ice Arena 
19th & Lathrop
459-1104
Public ice skating facility.
Boys & Girls Club 
800 Cushman St.
457-5223
Provides a supervised facility for boys and girls ages 6 to 18 with activities and games. Promotes mutual respect, self-growth and skill building with the children. Hours are 2pm-7pm Monday through Friday.
Boy Scouts 
1400 Gillam Way
452-1976
Boy scouts teaches values and ethics according to the scout oath and law. Provides healthy, fun activities for boys and their families; promotes community service, safety, and camping skills. The Venturing 
Care Net Pregnancy Center of Tanana Valley 
1402 Wilbur St.
455-8255
Provides nformation and support that include community resource referrals, baby furniture, post abortion support groups, and pregnancy tests. Fyndout Free Clinic provides ultrasounds to confirm pregnancy (up to 12 weeks) and a New Mom's Group.
Careline Crisis Intervention 
452-4357
24-hour crisis intervention, suicide prevention hotline, information and referral services.       
Chief Andrew Isaac Health Center (ANHS)
451-6682
Full service medical clinic for Alaskan Natives.
Child Care Assistance (TCC)
122 1st Ave.
452-8251 ex. 3365
Provides referrals and educational materials for parents in the Fairbanks North Star Borough seeking childcare. Services are available at either no-cost or low-cost.
Denali KidCare 
1-888-318-8890
State of Alaska program to provide health insurance coverage for children through age 18 and pregnant mothers who meet income guidelines.
Dept. of Labor and Workforce Development 
675 7th Ave.
451-2871
Unemployment Insurance for eligible adults who are available for full time work.
Disability Law Center 
1949 Gillam Way
456-1070       
Provides protection and advocacy services to Alaskans who experience disabilities, through legal representation, education and strategic advocacy.     
Division of Public Assistance 
675 7th Ave.
451-2850
AFDC (Aid to Families with Dependent Children) is a nationwide state and federal program that helps needy children who are deprived because at least one parent is absent, deceased, incapacitated, or unemployed.
Fairbanks Community Behavioral Health Center 
3893 S. Cushman St.
452-1575 
Offers a variety of outpatient treatment services to assist adults, children, and families in problem solving and mental issues. Operates on a sliding-fee scale. Programs include, Non-Emergency Respite, Developmental Disabilities Services, and Emergency/Crisis Services.
Fairbanks Memorial Hospital 
1650 Cowles St.
452-8181
Full service medical facility.
Fairbanks Native Association
452-1648
Early Head Start
609 3rd St.
451-8814
A program for assisting families with infant care and training for parents.
Fairbanks Alcohol Safety Action Program 
3100 S. Cushman St.
452-6144
FASAP provides assessment and referral services for court cases involving alcohol. Juvenile cases such as minor consuming, minor in possession and minor operating are also included. Persons who are convicted of DUI and other alcohol related offenses are screened and then referred to State approved agencies that provide alcohol/drug education and/or treatment. 
FNA Head Start
320 2nd Ave.
456-4989
Offers resources in education, health, social services and nutrition to families with preschool age children.       
Parents as Teachers
609 Hughes Ave.,
Suite 100
451-1005
Designed to empower parents to give their child the best possible start. Home based program with monthly family activities.
Graf Rheeneerhaanjii 
2550 Lawlor Road
455-4725
Provides residential treatment for substance abusing youth ages 12-18. Services include counseling, education, healthy living skills, and cultural and spiritual identity.
FNSBSD Preschool Special Education 
520 5th Ave.
452-2000 ext. 445
Provides preschool special education programs for children with special needs. It services children who are delayed in cognitive development, physical development, speech and language, social or emotional skills and learning disabilities.
Fairbanks Police Dept.: 459-6500 Careline: 452-4357
Fairbanks Rescue Mission 723 27th Ave. 452-5343
Provides housing and meals for homeless men and women with their children. Medical and dental services are available for urgent care through a cooperative effort with Salvation Army.
Fairbanks Counseling and Adoption
912 Barnette St.
456-4729
Assists families seeking adoption. Provides support groups, pregnancy-related counseling and counseling for families and children. 
Street Outreach and Advocacy Program (SOAP)
530 7th Ave.
374-9913
Provides a Youth Drop-in Center from 2pm-6pm M-F. Food and referrals services available.
Fairbanks North Star Borough School District
Alaska Native Education
Homeless Education Services
Special Education
Migrant Education Services
After School Programs
Military Family Information
Fairbanks Regional Public Health Center
1025 W. Barnette
452-1776
Offers many health related services including immunizations, TB tests, family planning services, teen pregnancy tests, HIV tests, eye care, Bereaved Parent Support Group, Well Child Care, care for children with special needs, and offers home visits.
Fairbanks Resource Agency
805 Airport Way
456-8901
FRA provides residential support, vocational training, employment opportunities, senior and family services for individuals with disabilities and their families. The Senior Services Program (456-8901) helps seniors experiencing Alzheimer's disease or other dementia, and those experiencing frailty or other age-related diseases. Services are also available to support the senior's family caregiver.
Fairbanks Youth Facility 
1502 Wilbur
451-2150
Youth correctional center
Family Centered Services of Alaska 
1825 Marika Road
474-0890
A non-profit mental health organization that provides individualized services and respite care for families with children who experience severe emotional difficulties. Services include ATOP (Alternative to Out-of-state Placement) and Pathfinders (an intervention program for children with mental health issues). Other services offered are:
Boys and Girls Home
3101 Lathrop St.
459-4700
Residential psychiatric treatment facility for adolescents.
Youth Education Support Services (YESS)
2785 College Rd.
452-2109
Youth Education Support Services (YESS) is a school for emotionally disturbed children. 
Residential Diagnostic Treatment Program (RDT)
1423 Peger Road
456-7010       
Provides a long-term treatment program (9 to 12 months) to children up to age 18 who are experiencing a significant behavioral health or mental health issue. All education and counseling services are provided onsite. 
Therapeutic Family Homes 
1825 Marika Road
474-0890
TFH program is designed to provide service to children in need of a safe and supportive place to live that are experiencing low to moderate behavioral health or mental health issues. 
Food Bank 
725 26th Ave.
452-7761
Provides boxes of food for needy families in the Fairbanks community. Teenagers are welcome as volunteers.
Girl Scouts 
431 Old Steese Hwy.
456-4782
Educational programs for girls and young adults to build character, to train in the responsibility of participating citizens and develop personal fitness.
Hamme Swimming Pool
901 Airport Way
459-1086
Recreational programs for seniors, adults, and children.
Interior Alaska Center for Non-Violent Living 
726 26th Ave.,
Ste 1
452-2293 
Provides safe housing for women and children who experience domestic violence. Other services include counseling, referrals, legal advocacy, community presentations and support groups for women. An advocate is on duty 24 hours a day.
Interior Community Health Center 
1606 23rd Ave.
455-4567
Provides health care, including dental health, for the entire family on a sliding fee scale. 
Interior Regional Housing Authority (IRHA)
828 27th Ave.
452-8315
Provides low to moderate income Native American families the opportunity to purchase and own a home in the Fairbanks/North Pole area and outlying villages.
Joel's Place 
1890 Marika Road
452-2621
Provides a safe place for youth ages 10-20 to go after school from 2– 9pm Monday through Friday and from 2-11pm Saturday. Homework help is available. Los Ninos Café offers a summer food program (10am-1pm for breakfast and 4pm-6pm for lunch). A light supper is provided year round. An indoor skate park and BMX sessions available with parental permission, helmet and a small fee.
LEAP- Alternatives to Violence
600 University Ave.
479-8545
State approved alternatives to violence program for men and women.
Literacy Council of Alaska 
517 Gafney Road
456-6212 
Supports families by increasing literacy for parents of children. Offers adult literacy classes, family literacy nights, school age tutoring, computer recycling, and Forget-Me-Not Books, a used book store. Free books are provided for children attending Head Start. Even Start promotes literacy for ESL parents and children.  Additionally, there is a Workforce Innovation & Opportunity Act Grant Program for out of school youth ages 16-24.
Low-income Housing (Section 8)
1442 22nd Ave.
452-7592
Provides rental assistance in the private sector for low-income families, seniors, handicapped and disabled individuals.
Love INC 
818 26th Ave.
452-5683
Provides assistance in meeting individual needs of all kinds, from firewood to transportation.
Mary Siah Pool
1025 14th Ave.
459-1081
Swimming programs and weight room equipment available.
Narcotics Anonymous 
1-866-258-6329
Support group for people recovering from drug and alcohol addiction. Groups held at various times and locations in the North Star Borough.
National Child Abuse Hot line 
1-800-422-4453
24-hour hot line that offers crisis counseling for adult survivors, abused children, parents experiencing stress and several other problems. Information and references. 
Noel Wein Library 
1215 Cowles
459-1020 
Provides preschool story hour and other programs to promote literacy. Computers with internet access available for 15 minutes use or by a daily sign-up for 30 minutes to one hour. Computers for word processing only are also available. Books, videos and books on tape available for check out with a library card. Reference staff can help with research projects and aid in finding books.
Office of Children's Services 
751 Old Richardson Hwy.,
Ste. 300
451-2650
Licenses foster homes and investigates potential child abuse and neglect. Information on adoption, guardianship and children seeking adoption. Independent Living Program provides support for foster children who age out of state care. 
Options/ Teen Parenting 
3757 Geist Rd. Hutchinson Career Center
479-2261 
High school program offered to pregnant or parenting teens (male or female) through FNSBSD. Childcare services available.
Presbyterian Hospitality House 
209 Forty Mile
456-6445 
Provides housing and treatment programs for youth unable to live at home or in foster care.
Planned Parenthood 
1867 Airport way,
Suite 160B
455-7285 
Provides STD checks, annual pelvic exams for women, and reproductive health services including birth control and family planning services. Emergency birth control and contraception available.
Play N Learn Community Head Start
1949 Gillam Way
452-4267
A comprehensive birth to five program for low-income families. Includes support services for families as well as educational opportunities for children.
Play N Learn Community Head Start 
510 E 5th Ave., N.P.
488-4940
A comprehensive preschool program for low-income families. Includes support services for families as well as educational opportunities for children.
Ralph Perdue Center 
3100 S. Cushman St.
452-6251
RPC utilizes a multidisciplinary approach to facilitate recovery from addiction and provides comprehensive chemical dependency treatment services offer a structured therapeutic environment. Emergency services are provided. Inroads to Healing is an outpatient/continuing care program.
Resource Center for Parents and Children 
726 26th Ave.
Ste 2
456-2866
Provides comprehensive support services for parent. Books and videos available for check-out. Support groups and trainings offered to the community throughout the year.
Family Services Program 
456-2866
Reunification and preservation program for parents referred through OCS. Supervised visits and parenting classes provided.
Parent Warm Line
452-4588
Peer support, help with discipline problems, and child development information.
Parenting Workshops 
452-2866
Special topic workshops held throughout the year discussing a variety of topics from discipline to nurturing children.
Stevie's Place 
374-2850
Child-friendly facility for medical evaluations and forensic interviews for children 0 – 18 years old who are alleged victims of sexual abuse. Children are referred by law enforcement, OCS, TFYS (Tribal Family and Youth Services), or by the medical community. Offers support and information on resources for the non-offending parent.
WIC Program (Women's, Infant's and Children) 
456-2990
A support program for women who are pregnant, who have newborns and/or are breastfeeding. The program is for women in the Fairbanks and rural villages.
Salvation Army 
2222 South Cushman St.
452-5005
Clothing vouchers are available. Assistance with rentals, furniture and food needs.
Social Security Administration 
101 12th Ave.
456-5390
Provides applications for a Social Security Card or for Supplemental Security Income for individuals who are 65 or older, blind or have a disability.
Stone Soup Cafe 
Eagles Hall 200- 1st Ave.
456-8317
Provides breakfast from 8:30am –9:30am and lunch from 11:30am –12:30pm Mon-Fri. 
thread- Connecting Early Care and Education to Alaska
1908 Old Pioneer Way
Child Care Referrals 459-1439
Educational Services 479-2214
Provides referrals for childcare and educational materials for parents. Parents may check out books, toys and puzzles for their children as well. Trainings offered for child care providers and parents.
Wage and Hour Administration 
675 7th Ave.
451-2886
Issues work permits for teens under the age of 18. 
Well Child Services 
452-1776
Physical/developmental assessments, immunizations, and counseling for breastfeeding, nutrition, and other health concerns. Services provided at the Fairbanks Health Center and several locations in the community.

Women and Children's Center for Inner Healing
1027 Evergreen
451-8164
Provides residential treatment for substance abusing women and their children who are under the age of 12. Services include counseling, education, parenting, healthy family skills, and cultural and spiritual identity.