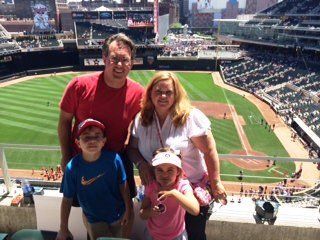 Sarah Hanson
Anchorage CASA Program Coordinator
Sarah Teaford Hanson has a BSW from Wartburg College and an MSW from Washington University in St. Louis.  Her first job out of grad school in 1989 was at Hillcrest Family Services in Cedar Rapids, Iowa as an adoption worker at the agency through which she was adopted.  She loved working with birth parents and helping couples adopt babies.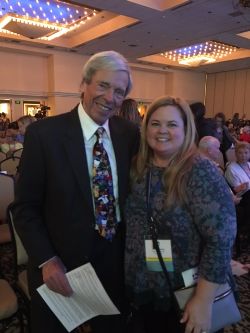 Sarah with Judge David W. Soukup
In 1991, Sarah moved to Minneapolis and worked in the Twin Cities area as a child protection worker.  In 1995, she moved to Alaska and began working at The Office of Children's Services (then DFYS) as a family services worker and acting supervisor before accepting a position at the Child Welfare Academy (CWA) in 1998. While working as a trainer at the CWA, Sarah was trained and sworn in as a CASA volunteer.

In 2004, Sarah and her husband welcomed their first child, Hugh.  In 2008, they welcomed Hilary. Sarah was fortunate to stay home with them for nine years before accepting a position as a Guardian ad Litem at the Office of Public Advocacy in October 2013.  In October 2014 Sarah started as the Anchorage CASA Program Coordinator. 

When Sarah is not working, she enjoys camping, traveling, being a Girl Scout Leader, and spending time with her family.